What to Expect at Your 1st Acupuncture Treatment
Congratulations on your decision to improve your health. We are excited you are trying acupuncture to reach your health goals. Here is what to expect at your first acupuncture treatment.
Before your appointment time, please call us at 773-915-3683 to complete a comprehensive health screening (you'll only do this for your first appointment with us). 
Please remember to bring your mask. Everyone - even vaccinated patients - is required to wear a mask at all times. (If you forget yours, we have disposable masks here you can wear). When you come upstairs, you'll be welcomed by the administrative assistant or your practitioner and we'll take your temperature. If you didn't get a chance to complete the new patient paperwork beforehand, you'll get a chance to fill it out then.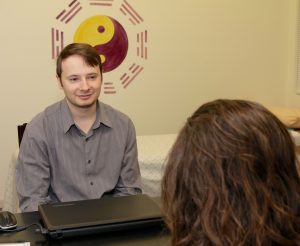 At the start of your appointment, you'll talk to us about what you'd like to receive care for. Then, we'll ask you questions about your main health concern and general questions about your body, similar to a physician's visit. We'll also ask about your environment, diet and levels and sources of stress. You are welcome to ask questions at any time.
Your practitioner and you will typically spend about 45-60 minutes talking during your first visit (and about 15-30 minutes during follow-up treatments).
Then, we will ask you to lie down on a massage table and we'll take your pulse. We may also examine your face, ears, and abdomen. We do this to get an idea of what is going on in your body and find the underlying cause of your health concerns.
Next, you'll receive an acupuncture treatment designed just for you. Your practitioner will lower the lights and put on relaxing music as you rest. You'll spend about 20-35 minutes resting with acupuncture needles. Many of our patients feel relaxed and peaceful during the treatment. After your treatment, we'll discuss your personalized treatment strategy and recommended course of treatment.
After getting acupuncture, it is common to feel happy and relaxed and also, tired and hungry. We recommend drinking plenty of water and having something to eat after your appointment.