We're happy to announce our re-opening of acupuncture and massage therapy sessions. In order to keep clients and practitioners safe, we're implementing new safety and sanitizing procedures in accordance with the CDC and Illinois Department of Public Health as well as other guidelines specific to licensed acupuncturists and licensed massage therapists.* 
What YOU Can Expect When Coming to Our Clinic: 
Staggered appointment times so patients do not cross paths. 

No waiting room available. If you arrive early, we'll ask you to wait in your car or outside.

Required health screenings for COVID-19 symptoms by phone before every treatment.

Required temperature taking before every treatment.

Face masks required for clients and practitioners alike.

Social distancing between client and practitioner. We'd love to hug and shake hands but can't right now.

A new informed consent form for you to read and sign before your first appointment back.

A stringent cleaning and sanitizing schedule for treatment rooms and bathrooms (more details below).

No visitors allowed with the client without clearing it with us first.

No-touch payment options available at checkout.
If You're Feeling These Symptoms 
We want to keep everyone safe and healthy so if you're experiencing any of these symptoms: 
fever or feeling feverish

cough

sore throat

shortness of breath

nausea, vomiting or diarrhea

runny or stuffy nose

low blood pressure symptoms

muscle aches, body aches or headaches

fatigue
recent loss of sense of smell or taste
and you're not sure what the underlying cause is, please call us to reschedule your appointment. If there's any doubt about whether to come in or not, please call us. All fees for late cancellations will be waived. We will not allow anyone into the clinic if they have symptoms of COVID-19.  
What to Do At Your Next Appointment 
Before You Enter the Building
Step 1: Arrive in the area about 5 minutes before your appointment time and call us to answer health screening questions. The clinic number is 773-915-3683. If you accidentally left your phone at home, you can come to the door and talk to us via the callbox. You'll be screened before every appointment. If you have any symptoms of COVID-19, we will cancel your appointment and ask you to contact your physician. 
Extra Screening for Massage Clients
If you've been travelling out of the country or out of state to any of the states on Cook County's Quarantine Travel list, we ask you to quarantine for 14 days before coming in for a massage. If you have any concerns about this, please feel free to call the clinic at 773-915-3683 to speak with our owners Lynn or Nick.
All Clients - Remember to Bring With You 
Remember to bring your face mask and your water bottle. We won't be providing cups of water. Please hydrate before you enter the building. 
It's a little chilly in the treatment rooms so if you tend to run cold, you may want to bring or wear warmer clothes, such as a cardigan, socks, etc. 
Face Masks Required for Everyone
You will be required to wear a face mask while you are in the building. It must cover your nose and mouth at all times even during your treatment. A homemade mask is okay. If you forget your mask, we'll provide one for you.
When You Enter the Building
Step 2: Get your temperature taken when you come upstairs. We've got a no-touch thermometer here. If it's 100 or above, we'll ask you to go home and contact your physician.
Step 3: Practice Social Distancing. We will be practicing social distancing keeping at least 6 feet between patients and practitioners. The only exception is during the actual insertion/removal of acupuncture needles. 
We've missed you all and would love to hug and shake hands but that's not a good idea right now. 
NO
Handshaking
Hugging
Fist bumps
High fives
Here are some alternatives we welcome: 
YES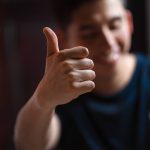 Waving
Thumbs up
Okay sign
Peace sign
Hang ten sign
Bow
Curtsy
Step 3: Wash your hands before you go into the treatment room. 
Step 4: Read and sign the new informed consent form before treatment. 
Step 5: Acupuncture Treatments: You'll be shown to a treatment room where you'll be in for the entirety of your appointment. Your treatment will include acupuncture only. Because we want to practice social distancing as much as possible, we won't be offering: cupping, gua sha, moxa, and application of Po Sum On oil . We will also forego looking at your tongue and taking your pulse for the time being. 
Massage Sessions: You'll be shown to a treatment room where you'll be in for the entirety of your appointment. We ask that you keep talking to a minimum during your session in order to limit exposure.
Your Comfort During Treatment  
The creature comforts we all love during a treatment will be put on hold for now. For example, table warmers, fleece pads on the table, or light blankets will no longer be available. To keep you warm and cozy, we'll be using space heaters and TDP infrared heat lamps. Feel free to bring/wear extra clothes to put on during treatment.
Step 6: Schedule Next Appointment and Check Out. You'll schedule and check out in the treatment room. We'll book your next appointment using the online calendar. The check-out room/office (room 8) will not be open to clients. For payment, we accept credit/debit cards and checks (please make them out beforehand). We also have touchless payment options using Apple Pay and Android Pay. We are not accepting cash at this time. 
What You Can Expect from US:
Before every shift, all practitioners and staff will take the health screening questionnaire and have their temperatures taken.  If it is 100 or above, they will go home and contact their physician.

All practitioners and staff will wear face masks.**

All linens will be changed for each patient and dirty linens will be professionally cleaned and dried in a commercial dryer at scorching high heat. 

We will be following a

stringent cleaning and sanitizing schedule

for the clinic according to CDC and IDPH guidelines.

Treatment rooms will be cleaned and disinfected between appointments. We will be using an EPA-registered disinfectant which kills bacteria and viruses including COVID-19. Windows will be opened in treatment rooms between appointments to ventilate rooms. The treatment rooms will "rest" (i.e. be empty) for at least 15 minutes between acupuncture appointments and at least 30 minutes between massage sessions. High-touch areas such as light switches, doorknobs, callbox buttons, bathroom faucet, etc. will be sanitized throughout the day.

Frequent

handwashing

(for at least 20 seconds) and hand sanitizing. 
What Else Is New at the Clinic
Curbside Pickup Available
You can pick up supplements, herbs, etc. at our curbside on Mondays and Wednesdays 12-7pm and Saturdays 8am-1pm. Please call or email the clinic in advance to place your order and arrange a time to pick them up.  
Treatment Packages
If you have treatments left on your acupuncture package, we will honor them through September 30, 2020. For massage packages, we will honor them through December 31, 2020.
Thank You for You
We appreciate your unending love and support. It's important you feel comfortable and safe when you visit the clinic. If you have any feedback, questions or concerns, feel free to call or email us. Looking forward to seeing you soon!
In Gratitude,
Lynn Palmgren, LAc.
Nick Arestopoulos, LAc.
Owners, Palmgren Acupuncture 
* Our new plan is in accordance with:
World Health Organization (WHO)

Centers for Disease Control (CDC)

Illinois Department of Public Health (IDPH)

Councils of Colleges of Acupuncture and Oriental Medicine (CCAOM)

National Certification of Commission for Acupuncture and Oriental Medicine (NCCAOM)

American Society of Acupuncturists (ASA)
** We will be wearing face masks with carbon filters. Because we aren't performing "aerosol generating care" such as dental work or nebulizing, we are not required to wear N95 masks according to IDPH. As you may know, there is a shortage of N95 masks and are being reserved for frontline workers. If you have any questions or concerns about this, please contact us at 773.915.3683.